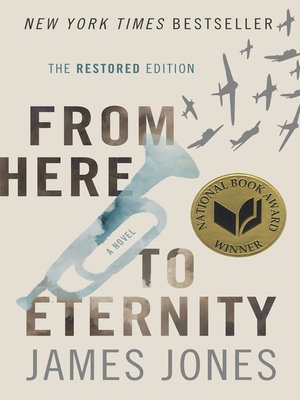 Every Friday, I'll post a book recommendation of a book that not only is worth reading, but a book that will interest to writers. This week it's From Here to Eternity: The Restored Edition by James Jones.
When Scribners published From Here to Eternity in 1951, it generated a whirlwind of controversy. Some considered the novel profane, others brilliant. Paul Pickrel in the Yale Review described it as "a book that will offend many readers; it contains several sensational situations and enough impolite language to make it unpublishable by the standards of even a decade ago."
Detractors criticized the writing. They deemed the dialog wooden and the characters shallow. What we didn't know at the time was that Scribners deleted the juicy parts that deepened the narrative, the four letter expletives and gay sex scenes. Even with a hack and slash job by the publisher, the book still won the National Book Award in 1952 and was the basis of a blockbuster movie released in 1953.
Now, Jones' Daughter has released a revised edition with the juicy parts added back to the narrative.  Readers can read the book as Jones intended it.
Though many consider it to be a war novel, most of the book occurs during the months preceding the Japanese attack on Pearl Harbor. More than just a war novel, it's a glimpse of American military and the Hawaiian life from the viewpoint of a grunt GI in those anxious prewar days. Mark me down as one of those who thinks the book is brilliant.
From a writer's perspective, From Here to Eternity, provides lessons on capturing the dialog, customs and morality of an era. Soldiers, manly men, have sex with gay locals, but don't consider themselves to be homosexual. For them, it's just a way to get spending money. Society then was unforgiving when it came to sexual preference.
The bad news is that From Here to Eternity: The Restored Edition is only available as an e-book. The good news is that Amazon has kindle readers for most platforms including Mac, Windows and Android.